We've made a note of the A-listers who never fail to look cool and collected in scorching climes. Don't say we don't treat you…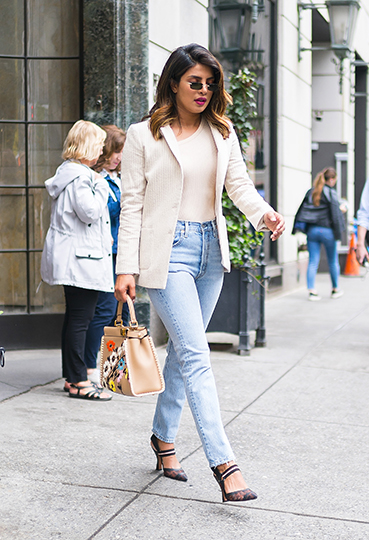 1.
Priyanka Chopra
There's no doubt this leading lady could even make a burlap bag look as good as the purple skirt suit she donned for the royal nuptials. Priyanka's signature style is usually form-fitting and feminine but never showy, and this warm-weather look proves it perfectly. She was spotted in the Big Apple wearing a cropped marigold top – minimally detailed with a contrast neckline and cuffs – and wide-legged denim: a look that's low-key luxe at its best.
Why we love her Instagram: It's like scrolling through your BFF's Instagram on a Sunday morning: there's the obligatory selfie (or six), the perfectly-timed Boomerang and the occasional inspirational quote. What's not to love?
Get the look: Pair a cotton-chiffon wrap top with cropped wide-leg jeans and satin slingback pumps, So simple, and so warm-weather ready. Mini cat-eye shades will complement the look perfectly.
@priyankachopra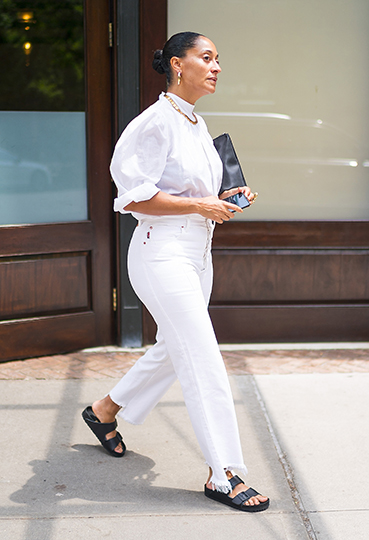 2.
Tracee Ellis Ross
Lovers of beige and basic LBDs look away. Actress, activist and black-ish star Tracee Ellis Ross never shies away from bold looks and larger-than-life prints – think rainbow ruffles and clashing florals – and this look, fit for a summer picnic or polo match, is no exception.
Why we love her Instagram: More mood board than social media page, Tracee puts the fun into function looks, thanks in part to her stylist, Karla Welch. But it's her sunny disposition that always shines through, whether she's luxuriating on a yacht or taking a leisurely stroll through the streets of New York.
Get her look: Stay on-trend with a polka-dot short-sleeved blouse, yellow culottes and two-tone brogues. Finish the look with a mini printed pouch. Because you came to clash!
@traceeellisross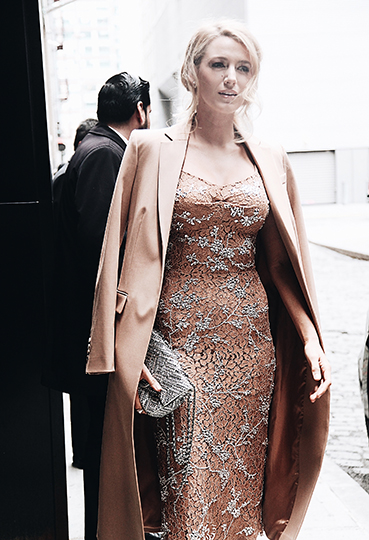 3.
Blake Lively
She flaunts a look that would make her Gossip Girl alter ego proud: cool asymmetric checks with a thigh-baring slit, impeccable side-swept tousled hair, sky-high sandals with beaded detailing… this is a look that's made for summertime soirées. And Blake wears it well by keeping it classy yet sultry. Where do we sign up for a dose of Lively-cool?
Why we love her Instagram: Her looks are the perfect mix of couture (she regularly gives us close-ups and behind-the-scenes looks of her glam gala and red carpet looks) and casual (her throwbacks to her prepubescent style make us laugh – it seems no one is safe from the cringeworthy days of youth).
Steal her style: Find a checked dress or skirt with a cascading hemline on your next date night and team it with scalloped suede sandals in cobalt blue or bronze and this summer's It bag, the leather-trimmed straw tote. Or, if it's a summer wedding you're heading to, swap the sandals for kitten heels with large bows.
@blakelively
Tags: Style Summer Looks Fashion Trends Celebrity Style Summer Style Instagram